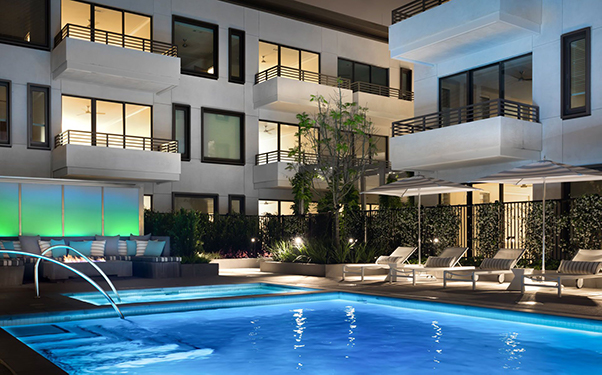 Professional pool services for
Apartments, Hotels and Resort Parks.
Click here for more info.
Unlike other professional service industries, the pool service industry is not necessarily known for a high level of professionalism and quality.  In fact, many pool service professionals are unlicensed and unregulated.
At LUXOR Pool, our goal is to change that common perception by bringing a new level of professionalism and quality to pool services.  Whether you are a property manager, capital expenditure manager or a lead engineer, you expect the same level of professionalism as you would from any other service professional.  If you take the time to explore a relationship with LUXOR Pool you will quickly see how we are different.
Pool Remodel Craftsmen
Keeping your pool and water amenities in top shape is a critical part of maintaining your property's value and appeal.  It is an important part of your overall return on investment strategy.  As a result, it is important to have a professional vendor you can have confidence in to help you manage and complete these projects.
We specialize in remodeling existing pools including pool resurfacing, tile and coping repair, pool decking refinishing or replacement, diving board replacement, slide installation, pergola installation and outdoor kitchens.
Whether you just want to update your pool or build an entire outdoor environment, we have the craftsmen to complete your vision.
Click here for more info on our Commercial Pool Remodeling Services.
Licensed Service Technicians
The lifeblood of your commercial pool is your pool equipment which creates the circulation, filtration, chemical treatment and automation required to keep your pool operating in top condition.  However, your pool equipment is driven by mechanical and electrical devices that inevitably fail over time.
When the time comes to repair or replace your pool equipment you need licensed service technicians who have proven that they have the knowledge and experience to get your pool back to operating efficiently.  Commercial pools, in particular, present specific challenges that must be addressed by professionals experiened with commercial environments and regulations.
All our service technicians are licensed with the state, trained in the latest technologies and repair techniques and familiar with local codes and ordinances governing commercial pools.
Certified Pool Operators (CPO)
As a Certified Pool Operation (CPO) we train each of our technicians in the specific techniques required to properly maintain and operate commercial pools.  Each of our technicians is also equipped with our advanced Digital Mobile Lab which allows us to analyze all 12 chemicals that make up your pool water's chemistry (keep in mind that most pool vendors only check 4 or 5 chemicals).  By checking all 12 chemicals in your pool every time we service your pool we are able to proactively identify potential issues before they turn into bigger issues.  We don't just throw a bunch of chlorine and shock in your pool to disguise the problem (this approach used by many pool vendors eventually leads to bigger issues).
Not only to we test all 12 chemicals in your pool, but we also include the results of this analysis in our weekly Service Report that is emailed to you each time we service your pool.  We also show you exactly what chemicals were added to your pool as a result of this analysis.  This not only allows you to hold us accountable for keeping your pool chemicals on target… but also provides an important reporting tool which you can use for compliance auditing purposes.
The simple truth is… our Advanced Water Chemistry Analysis is unparalleled in the pool service industry.  We challenge you to find another pool vendor that comes even close to what we provide as part of our regular service.
Compliance Audits
If you have been visited recently by your local code enforcement or compliance officials or are in preparation for a pending audit, we can help you quickly bring all your pool amenities into compliance.  The last thing you want to have is a pool that gets shut down and then you are scrambling to get it back open again.  We can even come out and complete a pre-audit checklist to make sure you are in compliance before the inspector arrives.
Pool Service Reports
Each time we service your pool, you will be emailed a comprehensive service report which includes: (1) a picture of your pool after it has been serviced, (2) all 12 chemical analysis readings,  (3) the chemical dosages we added to your pool based on these readings and (4) the specific steps we completed in servicing your pool.
As a property manager or lead engineer, this provides you with regular reporting and audit trail you need to have 100% confidence your pool is being maintained properly.
Commercial-Grade Liability Insurance
As part of our Commercial Pool Services, we maintain all of our commercial insurance coverage information on ComplianceDepot.com.  This includes millions of dollars worth of insurance including general liability, auto insurance and workers compensation insurance.  If there are any commercial insurance requirements you have which are not included in our ComplianceDepot.com profile, please let us know and we'll be happy to address this issue.  As an important commercial client, we want you to have the peace of mind that we are a company you can trust to service your pool.
The Latest Technology
One of the foundations of our company is continually investing in research and education to keep us abreast of the latest in pool care technology.  This means partnering with major manufacturers to stay on the leading edge of new equipment, chemicals and processes in order to bring you the best technology and services available for your pool.
LUXOR Pool Care provides services to the following communities:
LUXOR Pools LLC is a licensed and insured contractor with the State of Texas  (TICL#: 1084).